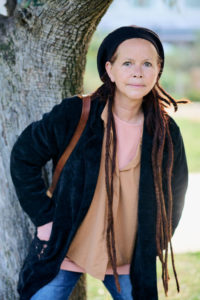 Born on december 13, 1957 in the french department of Val de Marne.
Adolescence spent in quiberon in Brittany.
Artistic training and teaching from 1975 to 1987.
Ecole d'art Claireaux (Claireaux art School) in Nantes,
concentration in fabric weaving and braiding.
Ecole des Beaux Arts de Fontblanche (Fontblanche Fine Arts School) in Marseille,
concentration in textile sculpture.
Centre de formation aux metiers d'Art Neige et Merveilles
(Art of Snow and Marvels training center for artisanal crafts).
Fabric weaving and braiding workshop manager
Mercantour National Park, Tende Alpes Maritimes.
Exhibitions in Rennes, Nantes, Quiberon, and Marseille.
Wanderings
1987-1988 : crossed the atlantic ocean by sailboat.
Stop overs in Spain, Portugal, Madeira, Canary islands, Cape Verde.
Exhibitions in Vigo and Pontevedra (Spain).
1988-1991: sailed around brazil and in the carribean.
1992: arrival in french guiana.
1992-1997: taught fine arts in the primary schools
of Montsinery and Saint Laurent du Maroni.
Exhibitions and performances with the students.
"Imagipage" project creation with the Direction Regionale des Affaires Culturelles
(Regional Office of Cultural Affairs).
Exhibitions at the Transamazoniennes festival in Saint Laurent du Maroni.
1997-2005: settled on the Mana river in French Guiana.
Acquired a 5-hectare parcel of land in the amazonian forest.
Created the Maalan association, "Mouvement d'Accompagnement a l'Art et la Nature"
(Accompaniment Movement for Nature and the Arts).
Development project of carbets (forest cabins)
to welcome nature classes and provide artist residences.
Development of a botanical garden with the students
of l'Ecole Nationale des Paysages de Blois et Versailles
(National School of Landscaping of Blois and Versailles).
Scientific and botanical projects with the IRD
and le Museum d'Histoire Naturelle de Paris
(Natural History Museum of Paris)
Exhibitions at the Musée de Cultures Guyanaises
(Museum of French Guiana Culture) in Cayenne,
at the hotel des Roches in Kourou
and at the Camp de la Transportation
(former sorting area for arriving penal colony prisoners)
in Saint Laurent du Maroni.
2001: 1st place in the show for the commemoration of slavery in French Guiana.
Exhibition at the Salon des Peintres et Sculteurs d'Outre-mer
(show of French Overseas Painters and Scultures) in Paris.
2005: recovery and rehabilitation in metropolitan France after an accident.
2008: exhibition in Carnac (Morbihan).
2009-2010: rbihanoravels in Thailand, Cambodia and Laos.
2010: exhibition in Tende (Alpes Maritimes).
2011-2012: exhibition at the Encadrier gallery in Cayenne
and the Encrage bookstore in Kourou.
2016 : exhibition at Agora gallery in New York (United States) -> Read this article
2017 : exhibition Monastère de Saorge ( France )
2020-2021 : Preparation of an exhibition at the Abbey of Saint André in Villeneuve lès Avignon (Gard) in 2021 -> Read this article